Looking for a cheap skip bin rental in Melville? We at WA skips are committed to offering customers a professional skip bin hire service they can rely on. Our skip bins come in a wide range of sizes to accommodate whatever you need to dispose of.
We are here to help you if this is your first time renting a skip bin. You can find all the information you need about our skip bins below.
What Is the Cost of Skip Bin Hire in Melville?
Regardless of whether you need a skip bin for a domestic or commercial job, we offer a wide selection of skips in Melville. Our skip bin rental prices depend on the size and length of time you rent them.
Do I Need a Small or Large Skip Bin?
Naturally, this is dependent on how much waste you have. Typically, our skip bins in Melville have a cubic metre capacity, which is the same as the volume of a trailer load.
Stacking up your rubbish and measuring its height, length, and width is the best way to find out how much you have. You can calculate your cubic metre total by multiplying those numbers together. If you round the number up to the nearest whole number, then that should be the ideal size for your waste removal service.
Give us a call on (08) 6377 9660 if you're still unsure which skip bin is best for you. One of our staff members will be able to assist you.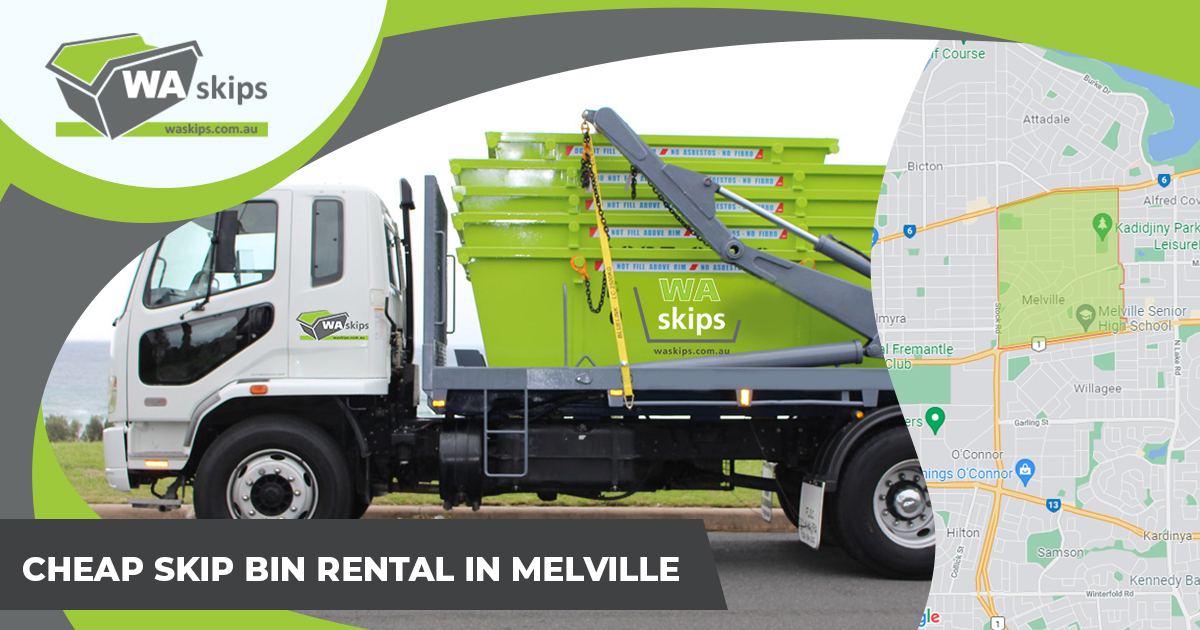 Can You Put Anything in a Skip Bin?
You may use a skip bin for a variety of waste products, and depending on what your needs are, there are four types of waste available: general waste, green waste, concrete/bricks, and heavy waste.
It is essential to know which skip you need and not place other types of waste. Skip bins in Melville should not be used to dispose of liquids, tyres, batteries, or food waste. As always, if you need assistance selecting the right skip bin, please give us a call on (08) 6377 9660.

How Long Can I Hire a Skip Bin For?
The standard hire period for skip bins in Melville is seven days. However, our flexible scheduling allows you to choose the time that works best for you.
How to Choose a Reliable Melville Skip Bin Rental Company
The last thing you need to do before hiring a skip bin is prepared your house or job site for it. Skip bins can become very heavy if there is a lot of waste. There are many times when the driveway is damaged by this process.
This is most often the case when skip bins are loaded at the same spot. Using some wooden boards placed underneath the skip base can help alleviate this problem by distributing the weight more evenly. This will increase the surface area and decrease the pressure applied to it.
In addition to providing cheap skip bin hire in Melville, we also provide a great service. We offer same-day delivery, and our online booking system makes it easy to organise your next skip bin hire. We guarantee the cheapest skip bin hire prices in Melville when you book with us.
Not in Melville? We also have skip bin services in Perth, Rockingham, Mandurah, Midland, Joondalup and Armadale. Contact us for a call on (08) 6377 9660 for any enquiries now.