We provide green waste skip bins to all of Perth WA. Dispose of your green waste properly with us. Affordable, convenient, and reliable.
Green waste skip bin is the most efficient and cost-effective solution. Instead of making multiple trips to the dump, or doing multiple loads in a trailer or ute, a skip bin allows you to dispose of all your green waste in one go. 
Instead of having to pay for disposal fees at the dump, many skip bin companies offer the option of sorting and recycling your green waste for you.
This not only saves you time and effort but also helps to reduce the amount of waste going into landfill.
So for any gardening or landscaping project, using a skip bin for green waste is the best solution.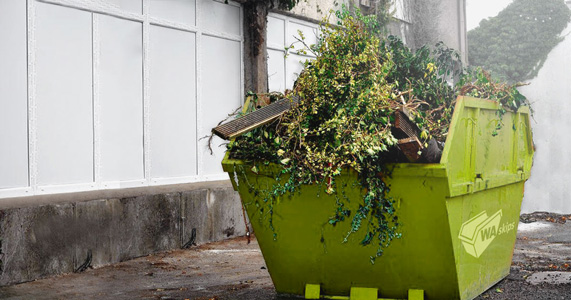 Types of Waste That You Can Put in Our Green Skip Bins
When disposing of green waste, it's important to be mindful of what materials can go into a skip bin. With our green skips, you can dispose of:
yard trimmings

grass clippings

leaves

twigs

small branches

small logs

garden prunings

weeds
However, it's important to note that there may be restrictions on the size and quantity of larger logs or tree trunks. 
As always, avoid placing any non-organic materials such as plastic bags or metals in your green waste skip bin. By following these guidelines, you can safely and efficiently dispose of your green waste with us.
If you're not sure if you can throw something in the skip or not, don't be shy to contact us!
Why Use a Green Waste Skip
The average homeowner generates a significant amount of green waste material each year. From hedge trimmings to fallen leaves. When it comes to green waste, we can't simply throw it into the trash.
Just because it's biodegradable doesn't mean it can simply be tossed in the trash. In many areas, green waste must be disposed of separately and taken to designated composting facilities. This adds an extra step (and cost) for homeowners and landscaping companies.
There are some ways other than green skips, but they are not really suitable for green waste.
One option is to burn the waste. But this can release harmful chemicals into the air and is often not allowed in certain areas.

Hiring a hauling service to dispose of large amounts of green waste can also be expensive and may not always be available. 

Composting offers a more environmentally friendly solution. But it requires dedicated space and regular maintenance.
So green skip bin is the ideal solution for green waste collection.
Hire a Skip for Garden Waste From Wa Skips
If you have been undertaking a large gardening project, odds are you have a lot of waste that needs to be disposed of. Instead of making multiple trips to the landfill in Perth or trying to fit it all in your regular trash bin, why not hire a green waste skip bin in Perth? 
At WA Skips, we offer an easy and hassle-free solution for getting rid of all your garden waste. From green waste to construction materials, our skips come in a range of sizes to accommodate any project. Plus, we safely and responsibly dispose of everything we collect. 
So why wait? Make yard cleanup a breeze with WA Skips today!