One size doesn't fit all. Need a skip for a small cleanout or a complete renovation? Luckily, at WA Skips we have a wide range of skip bin sizes so we can accommodate any job you need at the best skip bin prices Perth, large or small. If you're looking for a skip bin hire in Perth that offers high quality, cheap skip bins in Perth then contact us at (08) 6377 9660 today.

What size skip bin do I need?
There are three things you should consider before settling on the size. These include the type of waste you need to throw away, the size and weight of these items, and where you'll want the bin placed. It's helpful to consider the largest item that you intend to throw away as a starting point.
Larger bins are not necessarily better. If you only have a small amount of waste then a size that's too large could be a waste of money. However, many people have the tendency to underestimate how much waste they need to get rid of. We get numerous repeat orders from people who ordered a bin that was smaller than they actually need because they miscalculated the extent of their rubbish or found other things they needed to dispose of. Ordering the correct sized bin right away would have saved them a lot of money. So remember, it's always a safer option to go for a bin that is a little bit larger than you think you'll need for your rubbish removal service, rather than having to order another skip afterwards.
It's also important to be aware of what waste types can be discarded in your bins. Different kinds of waste need to be disposed of separately so if you may be in need of a couple of smaller bins rather than a large one.
The last important thing is where you're going to place the skip. If you want to place it on your driveway then be sure to measure the width so that you have enough space. Remember, you may need a council permit if you're placing your skip bin in the street or on the footpath.
What are the different skip bin sizes?
We have a huge range of skip bin sizes and types available, from 2m3 to 10m3 with competitive skip bin prices Perth.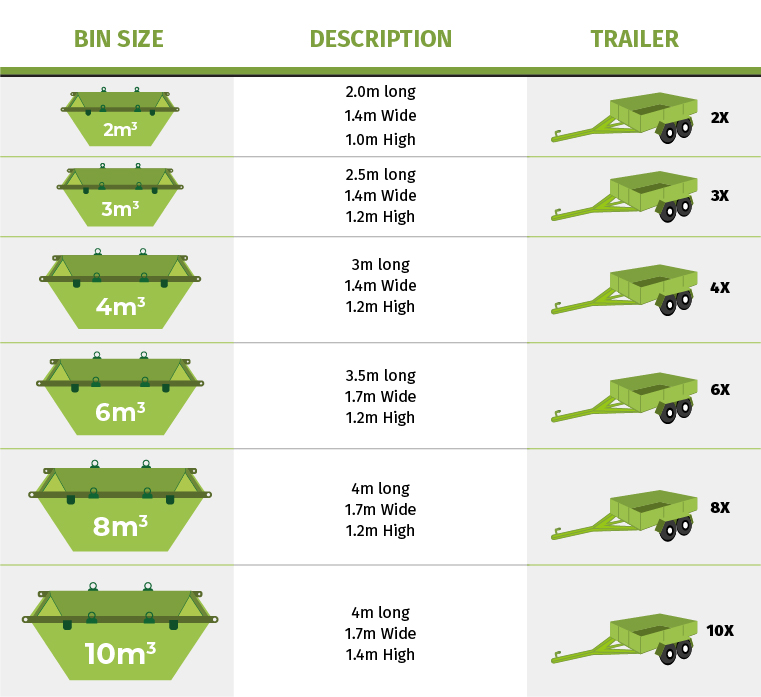 2m3 – This is considered a mini skip bin. It is particularly handy if you have a small amount of waste from things like garden cleanups. Most people can fit these skips on their property so you'll rarely require a skip license from the council. These bins also make excellent secondary skips for materials like old plasterboard.
3m3 – This is also considered a mini skip bin. Similarly useful for small waste clean ups and will also fit nicely on most properties. These sized skips are particularly popular for room refittings like the bathroom and kitchen.
4m3 – These bins are one of the most popular when it comes to residential use as they are a very convenient size to take care of the waste produced during DIY projects, refits and clean outs.
6m3 – Building and construction waste tend to require a larger skip bin size so this is a popular choice for builders or for larger house clearouts.
8m3 – These bins are typically used by builders for small to medium sized work. If you have a bathroom and kitchen renovation, this is a popular size to choose
10m3 – These skips are versatile and can be used for a wide range of uses. Home renovations, large scale garden clean ups, construction work, shop fittings and company clear outs are some of the occasions that could use this skip.
Contact Us
If you're still not sure what skip bin sizes are right for you then give our team a call on 6377 9660. We have a knowledgeable customer service team who'll be able to help you with any queries you may have and can help you find the right bin to suit your needs. Contact us now for the best skip bin prices Perth.