WA skips are the go-to skip bin hire Mandurah. We are professional, reliable, prompt and the leaders in waste and rubbish removal service. Whether you are moving home, renovating, landscaping or having a clearout, we have a range of the cheapest Mandurah skip bins.
What can go in Mandurah skip bins?
There are many things you can dispose of in a skip bin but you should also know the items you cannot dispose of in any skip container. For example, any materials containing asbestos, insulation material, or any other dangerous materials need to be removed with prior arrangement and following specific guidelines. You may incur additional charges if you try to dispose of incorrect or prohibited materials. With each skip bin type, you will have a list of items you can and cannot throw away. Below is a guide to help you: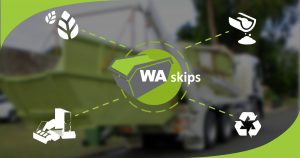 General Waste. This skip bin is for household waste, office waste and light construction waste. Avoid heavy materials as well as liquids, tyres, food waste and batteries.
Green Waste. This is only for garden waste with the exception of tree trunks with a diameter over 20cm and stumps over 30cm
Concrete/Bricks. Exactly what it says. Concrete and bricks with no other materials are accepted.
Heavy Waste. This is for all the heavier items as well as any items accepted by the other skip bins Mandurah. Still, no liquids, tyres, food waste or batteries are accepted.
Other options are available with specialised skip bin hire Perth – We have bins that are able to take excavation waste and mixed rubble.
How much does it cost to hire a skip bin?
Here at WA Skips we have the cheapest skip bin hire in Mandurah. Our Skip bin hire prices are dependent on how long you require the skip hire and the skip bin size. You can be sure of transparent pricing without hidden charges, fees or extras. We also have a same-day delivery option as well as a FREE no-obligation quote and FREE booking Mandurah skip bins.

What size skip bin do I need
So before booking your skip bin hire in Mandurah, you need to figure out what is the best skip bin size for your needs. A one m³ is roughly equivalent to a trailer load. And we have cheap skip bins Mandurah ranging in size from 2m³ to 10m³.
To determine how much you need, it's important to know how much rubbish you have. Piling everything into one place is handy. And then you can measure the length, width and height of the heap. By multiplying the three measurements together you will be able to determine what skip bin size you need.
What to Consider When Hiring Skip Bins in Mandurah
It is not uncommon for skip containers to be extremely hefty after packing and also create damage to a driveway. This takes place especially if you load them slowly with time in the very same place. To suppress this issue, you should uniformly distribute the weight of the load.
While we are the Cheapest skip bin hire Mandurah, we don't want you to have to pay for more than you need. Maximise the space in the skip by placing heavier items at the bottom, trying to dismantle and flatten furniture as much as you can, filling in empty containers, cabinets or drawers with smaller items and filling as much space in between. Just like a game of Tetris, you want to ensure you are not left with any gaps or spaces.
Contact WA Skips  for Cheap Skip Bins in Mandurah
So for all your skip bin hire Mandurah needs, you can't get better than WA Skips. With our gold-star customer service, 24/7 support from a Perth-based customer service team to handle all your questions and fully licensed, accredited, insured and council compliant, you can be confident knowing we have all your rubbish removal needs to be covered at price that's right.
As well as Rubbish removal Mandurah, we also service many other localities. Simply search Skip bin hire near me WA Skips for Joondalup skip bin hire, Rockingham skip bin hire and Armadale skip bin hire for local area delivery to your premises. Reach us directly on (08) 6377 9660.