Skip Bin Hire Midland, Swan Valley, and Perth Hills
Get fast, efficient skip bin hire Midland and surrounding areas.  WA Skips are seasoned waste management professionals. And we have been helping our customers throughout the Perth metropolitan area for many years.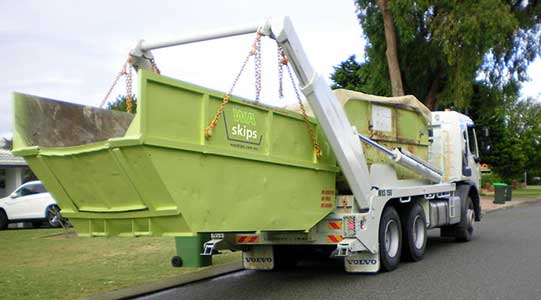 We specialize in reliable and efficient waste removal via skip bins in Midland, and always put the satisfaction of the customer and the well-being of the environment as our main priorities. If you are looking for a skip bin hire Midland, Swan Valley, or Perth Hills, WA Skips have you sorted. Give us a call at (08) 6377 9660 or get an instant quote online.

What can I use skip bins in Midland for?
At WA Skips, we can take care of waste of all types. Whether you're just disposing of some general household waste or garden waste construction debris, or industrial waste. We categorize our waste into four main types. These types are general waste, green waste, concrete/bricks, and heavy waste. Sorting waste into these groups makes recycling and resource extraction easier and minimizes contamination. To find out more about what can and can't be placed in those bins check out our waste type guide.
What does a skip bin hire Midland cost?
The cost of skip bins Midland, Swan Valley, and Perth Hills can vary depending on a variety of factors including the skip bin sizes and how long you'd like to hire it for. This means that all jobs are custom quoted.
The variation of the prices based on size range from $185 for the mini skip bin hire option (2m3) to $585 for the largest skip bin hire option (10m3). Quotes usually assume a standard 7-day hire but the service can be longer or shorter as required.
Why choose WA Skips?
We are a highly reputable waste removal company that has years of experience understanding the needs of skip bin hire in Perth residents. And we value our customer's satisfaction and work tirelessly to ensure that you have an effortless experience with us.
WA Skips are known for reliability. With consistent drop-off and pick-up times which are arranged to suit your needs. We are also very flexible. Some companies insist on a standard 7-day hire. But we aim to work around your schedule and find the best way to accommodate your needs. To top it all off, our customer service is among the best.
Customer satisfaction is also not all we care about – eco-friendly waste disposal is an essential part of our business framework. We are fully licensed and council compliant. We ensure that all our waste goes through authorized treatment facilities and recycle as much as possible (sometimes up to 100% of the waste contents).
How to contact us?
For the best skip bin hire Midland, Swan Valley, or the hills region, get in contact with our team at WA Skips today. Getting an online quote is simple and only takes minutes to complete. Alternatively, our friendly team is always available to help you out and answer any questions you may have. Just get in touch by calling (08) 6377 9660.