At WA Skips we are seasoned professionals in waste management. We have been in the Skip bin hire Perth business for many years and we offer Perth's best service and prices. With skip bins Perth of all sizes under one roof, we service the Perth metropolitan and surrounds. We pride ourselves on being locally owned and operated and together with our customers we can help to keep Australia beautiful.
We are customer-driven and our focus is to provide you with ultra-competitive pricing and our service is second to none. Contact us now on 08 6117 8119.

Skip bin hire Perth – What size do I need?
We have a wide range of skip bin sizes to suit your project, whether it be domestic or commercial bin hire Perth. Our range starts from 2m3 – equal to 2 trailers, all the way to 10m3 – equal to 10 trailers. If you are not sure about what size you may need, give our experts a call. Anyone in our team will be happy to offer you advice and make sure you book the right size skip bins Perth. It is important you choose a skip bin rental that is big enough for your requirements and you also don't want to spend any extra on a bin that is too big.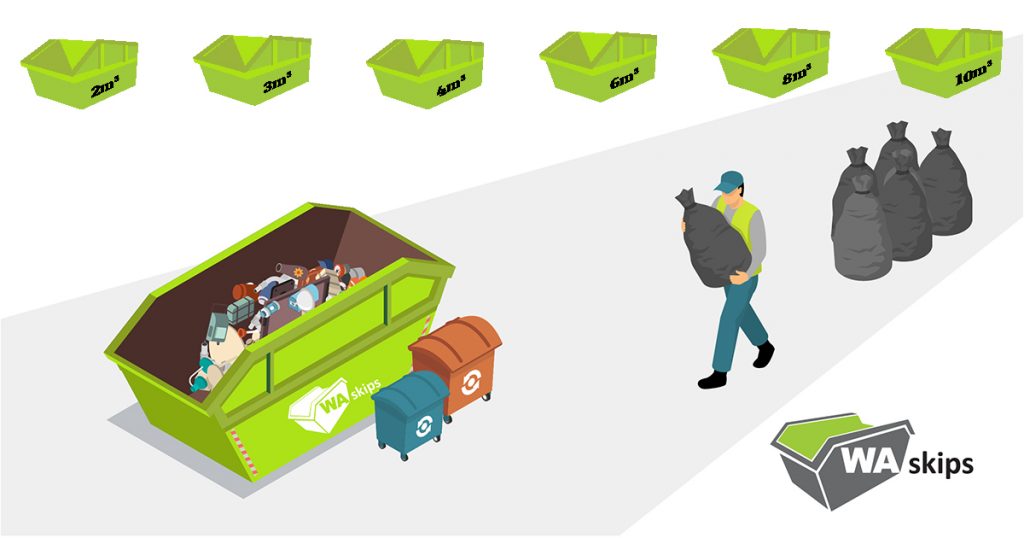 How much does it cost to hire a skip?
Depending on your needs we have a wide range of skip bins Perth. Use the below guide to help you choose the right Perth bin hire for your project. If you require a bigger skip bin rental, then what's on our list please give us a call as more than likely we will be able to accommodate you. No job too big or small, we can cater for both domestic and commercial jobs.
Skip Bin Prices Perth:
2m3 = 2 Trailers $185
3m3 = 3 Trailers $220
4m3 = 4 Trailers $285
6m3 = 6 Trailers $380
8m3 = 8 Trailers $490
10m3 = 10 Trailers $585
Why choose WA Skips?
We are known as being the best company for rubbish removal in Perth. From our range of skip bins in Perth, our simple booking system, to our 24/7 Perth based customer service is what sets us apart from the rest and makes us the number one choice for Perth bin hire.
Most Perth rubbish removal companies have a standard 7 day hire period, here at WA Skips we are flexible and can work around your schedule to best accommodate you. Let us know how long you need the skip bin rental, and you will receive an accurate quote.
We are fully licensed and accredited, insured and council compliant. We only use authorized treatment facilities to dispose of waste and we often recycle up to 100% of the contents.
Above all we are reliable, on-time delivery and on-time pickups are a must for us. When you book with us you can be sure you will get the cheapest skip bin hire Perth.
How to contact us?
Why worry about your rubbish when we are there to carry it all away? Rest easy knowing that we will get rid of your rubbish in a responsible and ethical manner.
Put a call through to us and find out why we are the best in the business! Our Perth based customer service is available 24 hours a day 7 days a week. We have a same-day delivery skip bins Perth service available if you call us before 09:00 am.
Whether you are renovating your home, giving your gardens a facelift or you are cleaning out your garage, booking Perth bin hire couldn't be easier.
Call us on 08 6117 8119
Not in Perth? We also provide Skip Bin Hire in Armadale, Joondalup, Mandurah, Midland skip bin hire to Rockingham.