By getting rid of old furniture, you can reduce the amount of rubbish sent to landfill and help create a more sustainable future. But before taking them to the local tip, consider that there are better ways to dispose of old furniture.
There are many ways to get rid of old furniture.
selling it
donation
kerbside pickups
dispose of it using a skip bin hire
By selling or donating, you can give the old furniture a second life. People can reuse them in their homes or office.
Here are some of the most sustainable ways to dispose of your unwanted items.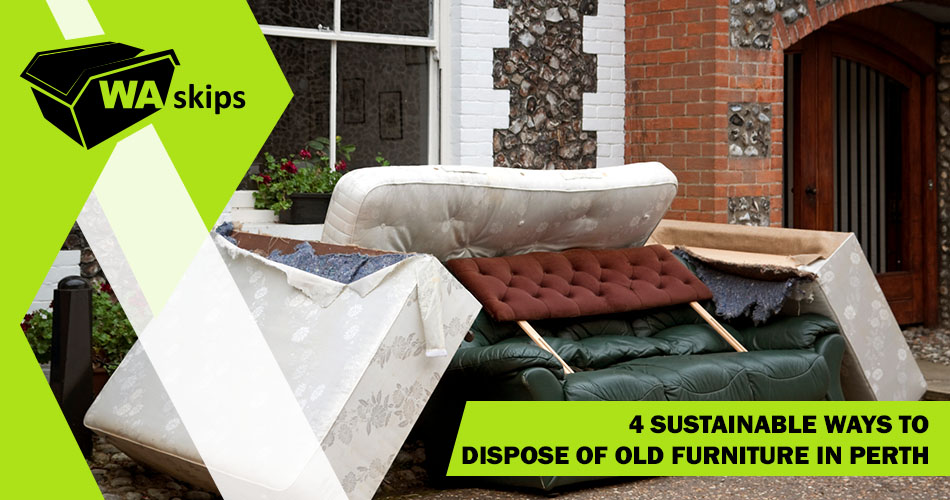 1. Donate, Sell or Trade Your Old Furniture
If your old furniture is in pretty good condition, throwing it away is certainly not the best option. There are numerous websites available that can help you organise ways to donate, sell or even trade your unwanted furniture.
If you have many items, you are looking to dispose of then you might even consider a garage sale. There are many benefits to getting rid of old furniture this way.
Donating to not-for-profit organisations is a great way to ensure that your unwanted items go to someone who needs them. Selling or trading could land with some extra cash to enjoy. With that cash, you can even buy new items too.
Of course, there is the added benefit of reducing landfill. So you will know that you are doing your part to ensure a sustainable future.
2. Reach Out to the Local Council
Hard rubbish like furniture is able to be removed by local councils throughout Australia (for a disposal fee). All that needs to be done by you is for you to put your old furniture and other hard rubbish on the curbside. And the council will take care of everything else.
That is of course if your neighbours don't beat them to it. Many people scour the streets in hope of finding some item they need or the kerb. So don't be surprised if you find that any pieces of furniture are missing before the collection date.

3. Rent a Skip Bin
Using a skip bin hire is one of the fastest, simplest and most efficient ways to dispose of old furniture. There are many different sizes that are available. So you won't have to spend more than necessary to get rid of your furniture.
The disposal and management of your items will be dealt with by professionals. And the bin can be delivered right to your household.
Skip bins are also an eco-friendly choice. A good waste management company will ensure that as much is recycled and as little is sent to landfills as possible.
4. Hire a Professional Waste Collection Service
Another option is to organise a waste collection service. If you are unable to hire a skip bin rental or don't want to leave your furniture on the kerb, then you can still dispose of old furniture in a hassle-free way.
Find a certified waste management service that can help organise reliable collections. Whether it's just for a one-off or if you need a recurring rubbish bins Perth arrangement.
5. Work With Old Furniture Disposal Service
Aside from renting skip bins, WA Skips also provides old furniture disposal in Perth. By using us, you are contributing to a more sustainable future. As our efforts help conserve resources, reduce the amount of furniture waste that goes to landfill and reduce emissions. For more information about our service for disposing of old furniture, contact us today.