When you think of doing a clean-up in your home, a mini skip bin is what you need to remove the unneeded stuff easily and effectively. Especially if you have been very busy with no time for regular cleaning, at least you should spend a day in a month to sort what you need to keep and what you need to remove. It is essential to bring back your spotless home and upgrade your life quality.
Decluttering the piled waste will make you feel wonderfully free. Mini skip bin hire is an excellent solution to resolve it. Mini skip bins are the smallest size skips that are commonly used to store the household waste for regular cleaning. It is useful for your small cleaning project, whether you decide to clean up your garden, clean up the garage, or bedroom.  Call now and get the best skip bin price today.

Sizes of Mini Skip Bins
A mini skip bin is well-suited for smaller or restricted cleaning areas and is an affordable waste removal method. It is very suitable for any clean-up projects that produce a small amount of waste. The mini skip bin is usually available in two sizes, it is 2m3 and 3m3. Both of it is usually the smallest sizes offered for hire. A 2m3 skip bin can store up to 25 black bin bags, while 3m3 skip bin can store 35 to 50 large bin bags.
The Use of Mini Skip Bin
Mini skip bin hire is helpful for any types of clean-up project, from commercial to domestic job. A mini skip is useful in helping your domestic job at ease. From garden clean-ups, kitchen or bedroom renovation or redecoration, a mini skip bin is a suitable option. Not only to store household waste, but mini skip bin also useful for commercial purposes. You can use it to sort a particular type of waste alongside a larger skip bin for a heavier type of waste.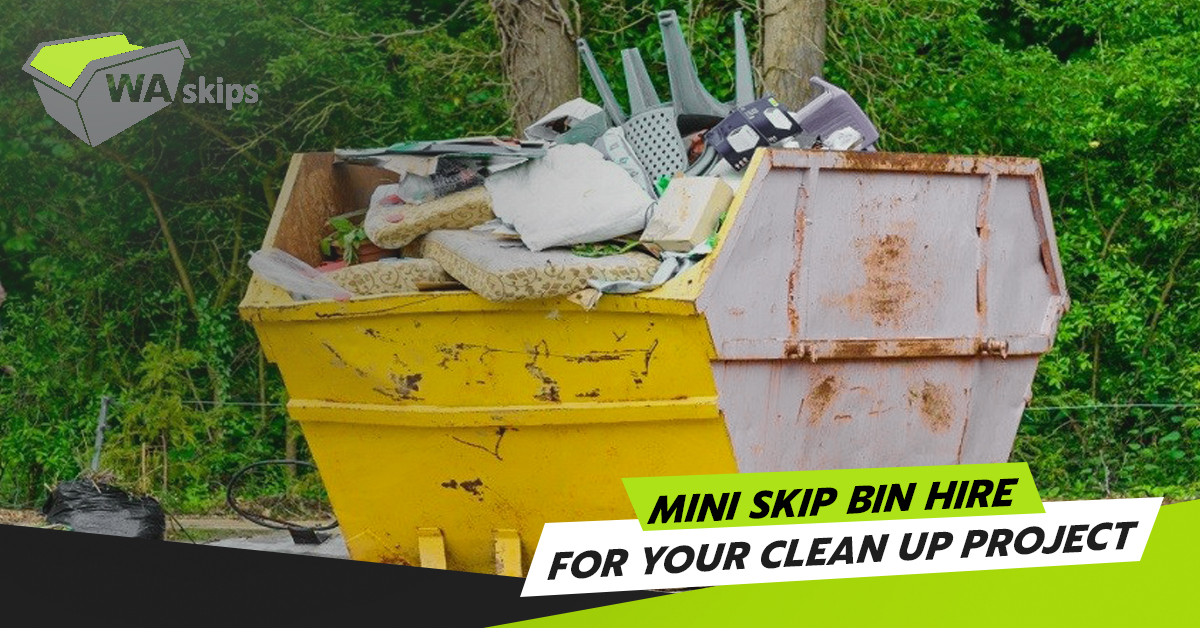 Why Use Mini Skip Bin?
An inexpensive choice
Based on the size, a mini skip bin is the smallest skip bin which makes them an inexpensive choice. An affordable option compared to a larger skip bin. It is a cost-effective waste disposal service you can choose for your clean-up project, whether it is a domestic or commercial purpose.
A sustainable and environmentally-friendly choice
By hiring a mini skip bin, you can assure the waste that you generated from the clean-up project will pass an appropriate treatment process. Various types of waste can be recycled, from paper, metal to plastic waste. You can contribute a lot to the environment by using a mini skip bin.
Require a smaller space
Having a mini skip bin for your clean-up project in a small working area will be so helpful. Hiring a mini skip bin will put your job at ease since you don't have to think a lot about where to place it. It requires a smaller area compared to the regular skip bin, a hassle-free project which doesn't require you a council permit that will cost you more money.
Conclusion
Feel convinced to hire a mini skip bin? It can be a saviour for any of your small clean-up projects, effective and affordable waste disposal method. Save most of your cash by hiring a mini skip bin from WA Skips, a reliable rubbish removal in Perth. Contact us now to discuss your skip bins suit your project needs.